Dumpster Rental Service in Dallas-Fort Worth
Live Oak Dumpsters offers affordable roll-off dumpster rentals to residential and commercial customers throughout the Dallas-Fort Worth Metroplex. We are a small locally owned business and our goal is to provide the best customer service in the industry. We offer reliable dumpster rental service at a reasonable price with no hidden fees. Whether you are renting a dumpster for the first time or you are an experienced contractor we make the process as simple and stress free as possible.
Our residential customers use dumpsters for many different projects such as garage clean-outs, moving, landscape projects, and home renovations just to name a few.
Disposing of debris from these projects can be challenging, your residential trash may not accept these items or that large of a quantity. Hauling it yourself to a disposal facility can be a challenge if not impossible all together. That is why renting a roll-off dumpster from Live Oak Dumpsters is a great option. We drop off a dumpster, you fill it, and we haul it away to be disposed of properly. It's that simple.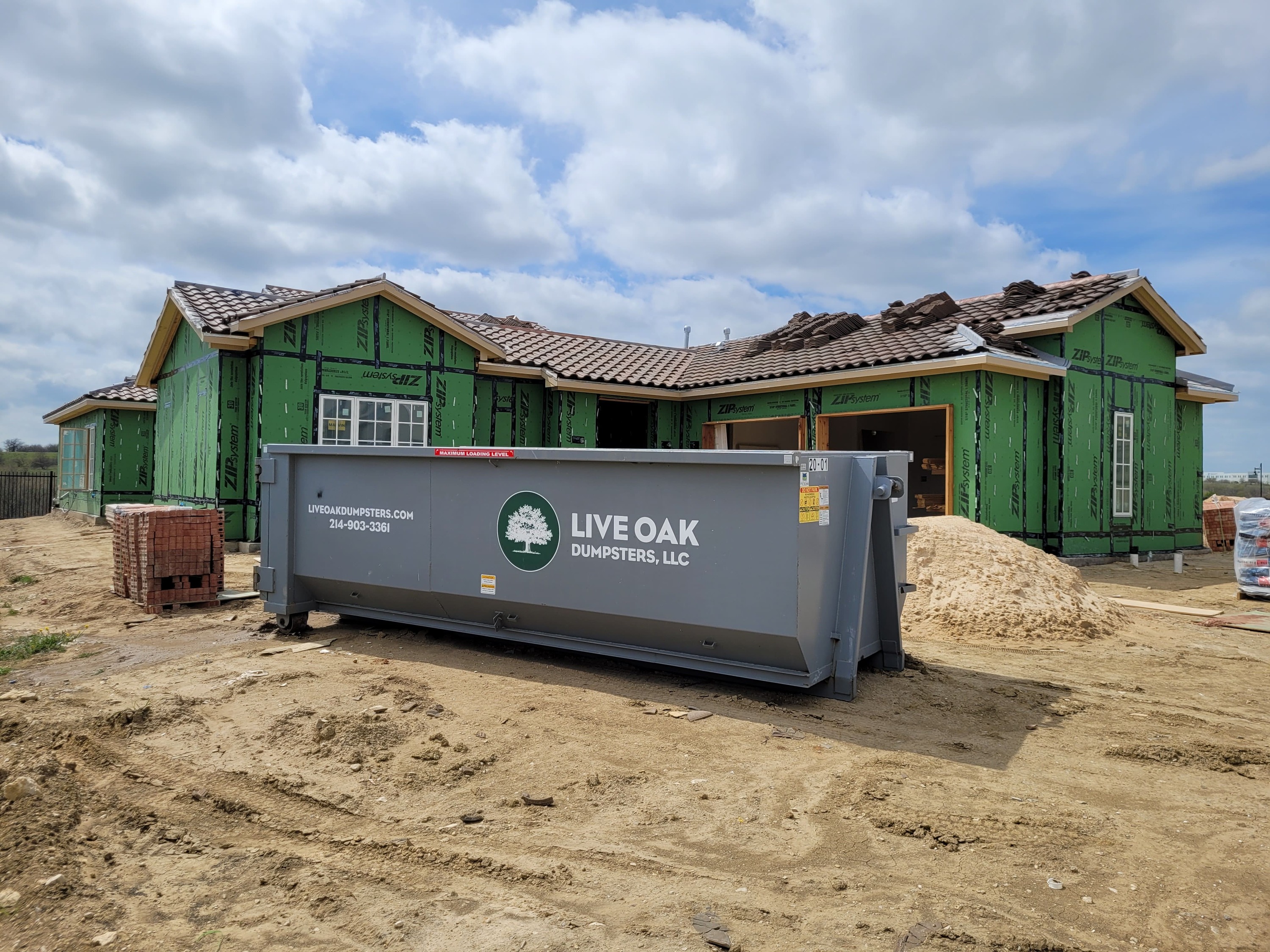 Contractors and commercial facilities use dumpsters on a regular basis to dispose of trash and construction debris generated by their operations. At Live Oak Dumpsters we understand the importance of timely service in order to keep your operation and projects moving along.

We have the ability to deliver, pickup and swap out dumpsters reliably and on time. Customer service is our top priority and we stive to be an industry partner that you can count on.
Our dumpster rental process is easy and straightforward. We offer multiple sizes of roll-off dumpster and several rental period options to accommodate any project. Checkout our step-by-step guide below to help walk you through the process.
Step 1 - Selecting a Size & Rental Period
Determine what size of roll-off dumpster you need and how long you will need it for. We offer 10-Yard, 15-Yard and 20-Yard open top roll-off dumpsters for 3-Day, 7-Day and open ended rental periods.
Step 2 - Schedule & Pay
Once you have determined what you need its time to schedule your dumpster and provide payment. You can use our secure online checkout to schedule your dumpster rental and provide payment or you can call us anytime to place your order over the phone.
Step 3 - Delivery
Our driver will place your dumpster in the area you specified when you placed your order on the day you requested. Most deliveries are completed in the morning but specific times can usually be accommodated if we are provided with enough notice. No one is required to be present for delivery.
Step 4 - Loading
Once your dumpster is delivered you can begin loading it. Take your time and load it evenly to make sure the weight is distributed properly and you get the most out of the space in the dumpster. Not sure what you can put in the dumpster? Check the prohibited items list in the service agreement that is attached to your invoice. You can also call to check with us if you aren't sure. We appreciate the call and it can help both of us to make sure there aren't any issues at pickup or when we dispose of the contents. Note: Make sure the dumpster is not loaded above the top rail marked "Maximum Loading Level."
Step 5 - Pickup & Disposal
We will text you the day before to remind you that your dumpster is scheduled to be picked up on the following day. Our driver will arrive, load the dumpster and haul it away to an appropriate facility to dispose of the contents properly.
Live Oak Dumpster Rental Service Area
We are locally owned and operated and offer fast, reliable dumpster rental services throughout the Dallas-Fort Worth Metroplex. Please follow the link below to see our entire service area or feel free to give us a call to see if we provide dumpster rentals in your area.